Phonics and Reading
Students at Uffculme School are at different points in their phonetic and reading development. Most students are working below age-related expectations in their reading.
Pre-Phonics
We support students at a 'pre-phonic' level to develop attention, listening and communication through; play, shared sessions and focussed work that is in line with the areas of the curriculum and topic focus.
Further information, strategies and resources can be found at Twinkl Phonics - DfE Validated Scheme - Primary Resources
Phonics
We introduce students to a more formal phonetic program when they reach the appropriate point in their development. This is agreed through formal assessment, observation and discussions with families. Staff will deliver learning using the Read, Write Inc program of Phonics.
Further information for parents/carers can be found here:
Parent guide to Read Write Inc. Phonics - Oxford Owl
KS3 and beyond
Students at Key Stage 3 and beyond are supported though interventions. We currently have groups accessing JumpStart and Switch On to Reading (EEF)
Picture and symbol recognition
We support all students at all key stages to develop functional reading in line with their developmental point. We recognise that for some students the development of a reading vocabulary will run concurrently with their communication.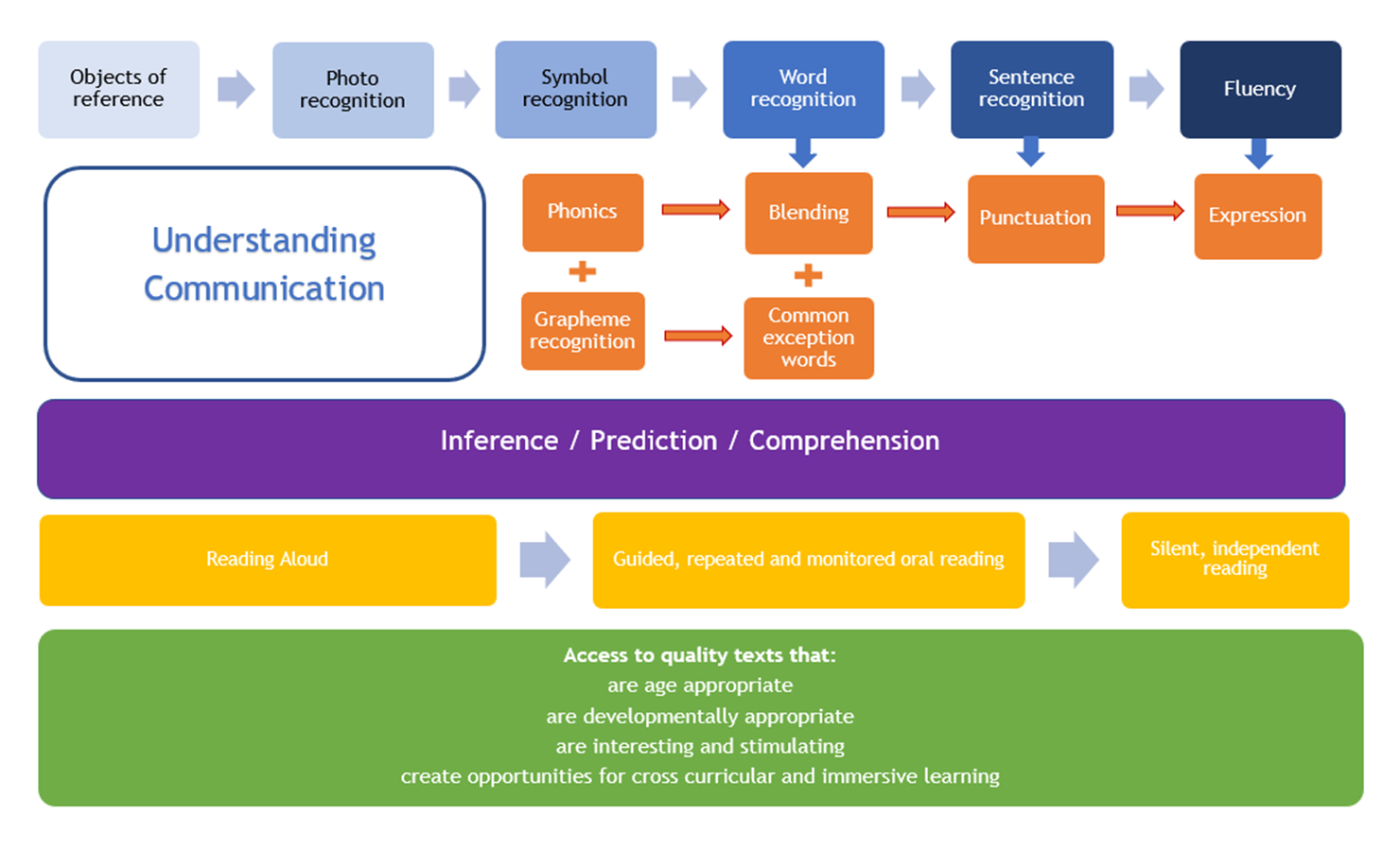 Useful links for online learning
National Literacy Trust
Split up by age group, you will find ideas and guidance for simple activities that will engage your children at home, while also benefiting their reading, writing and language development.
You'll be able to access free reading and writing resources, audiobooks, videos, competitions and reading challenges. Every resource is available for free, although to access some you may need to create a free account.
https://literacytrust.org.uk/family-zone/
Phonics
If your child is at the stage of using phonics to decode words then have a look at these sites. They provide a variety of learning resources and games.
Reading
If your child prefers reading online rather than a traditional book, have a look at these links.
Roald Dahl Educational Resources
For Complex learners (pre-phonics) please use the attachments below:
A range of accessible apps for download on iPad and Android devices suitable for complex learners of all ages:
http://www.inclusive.co.uk/apps