Orchestra for All - Recruitment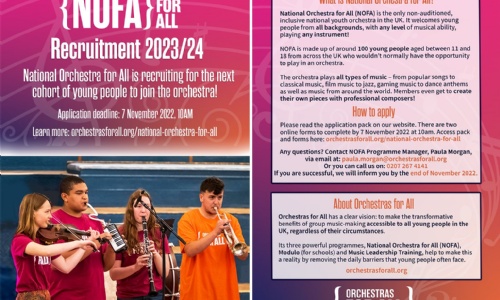 Opportunity for budding musicians age 11 - 18
What is Orchestras for All?
Orchestras for All is a national youth music charity, breaking down barriers to give young people life-changing musical experiences. For more information, please visit our website.
What is NOFA?
National Orchestra for All (NOFA) is a non-auditioned, free, inclusive national youth orchestra. We welcome young people aged 11-18 from all backgrounds, with any level of musical ability, playing any instrument!
NOFA is a two-year programme (2023-2024) where young people attend in-person residentials and digital events.
Young people who take part in NOFA
play incredible music with other young people from all walks of life
learn, have fun, and develop both musically and socially
improve their wellbeing and confidence within a supportive, safe and nurturing environment
How can you apply?
For full details, please read the NOFA application pack HERE through which you will find the following forms.
To apply, two forms must be completed.
Form 1 is completed by the applicant, with support from an adult if needed and they must have parental/ guardian consent CLICK HERE
Form 2 is completed by the nominator CLICK HERE
The nominating adult can be a teacher, community music leader, support worker, youth worker, charity worker or other equivalent professional. If that's not possible for the young person, then a parent or guardian can be the nominator.
The deadline for applying is Monday 7 November 2022 at 10am.
If you have any questions about either programme, please email me direct, paula.morgan@orchestrasforall.org or call me on 07885565000. I'd love to hear from you!
Here are our social channels, if this is something your young people would be interested in, I can also get you a flyer to circulate.
Learn more via the charity's website 👉 https://bit.ly/OrchestrasForAll
Or get social with us!
Twitter: @Orchestras4All
Facebook and Instagram: @orchestrasforall