Open Mic Show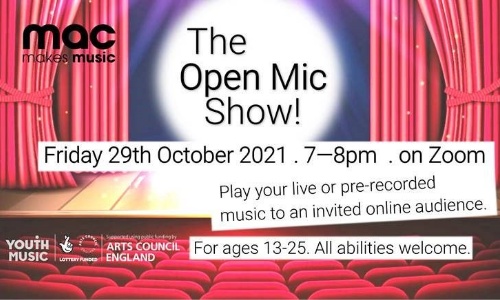 with MAC Makes Music
The MAC Makes Music Online Open Mic Show
Friday 29th October, 7-8pm (soundchecks from 6pm)
The show takes place on Zoom and is inclusive of all abilities.
A great opportunity for young people aged 13 to 25 to showcase their music in a fun and supportive environment.
Sing or rap to a backing track, play a tune on an instrument or share a pre-recorded video or audio file – whichever you prefer.
Invite up to 4 guests to come and watch.
Click here for more information.
Here's a short video of what participants can expect: https://youtu.be/gfD-u7eHLUs